NBA, Bulls vs Raptors: Demar DeRozan's clutch final minutes ensures Chicago Bulls go up 4-0 and remain undefeated. The raptors playing with no superstar nearly had it in their bag.
Looked as if they were headed for a comfortable win on the road against the Toronto Raptors. But the fourth quarter saw Chicago let the lead nearly slip away as the home team clawed their way back into it.
Stepping up his game when Bulls needed, Demar DeRozan withstood in his promise. His Toronto return was a good one scoring a team-high of 26 points, including 11 in the fourth quarter and two most important iso shots to keep the host under control.
Nearly blew up the advantage with some sloppy turnovers to give Raptors a chance to strike with 14.4 seconds left. Nikola Vucevic split a pair of free throws (Chicago's only miss from the charity stripe in this game) to make it a three-point lead.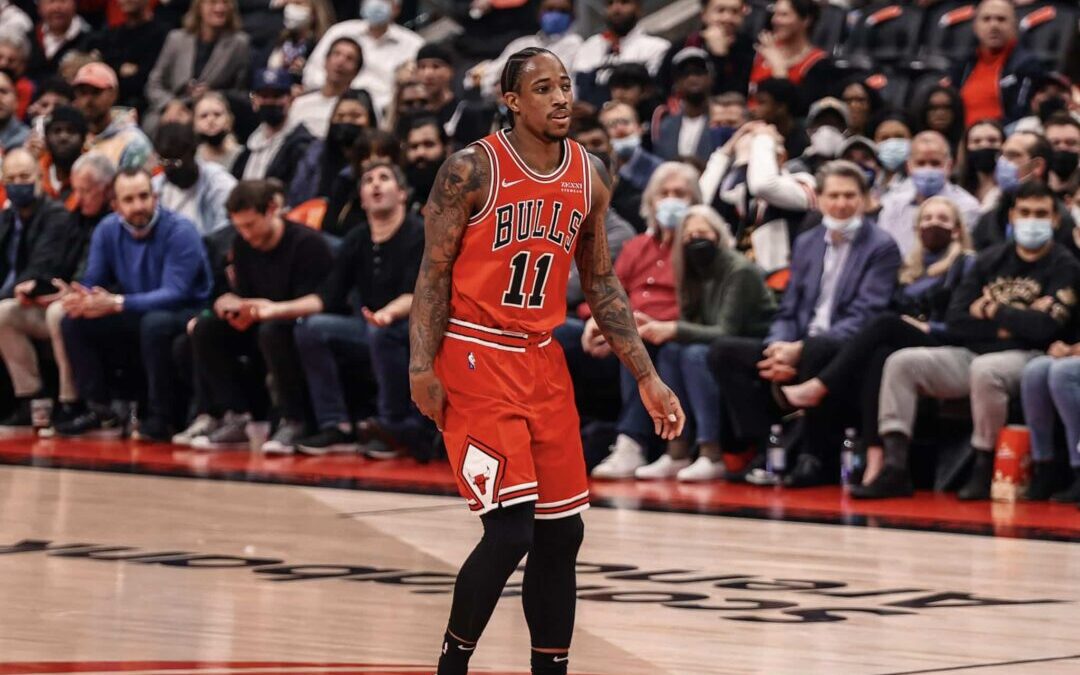 Raptors having the ball, Bulls decided against fouling, Vucevic with his defensive best forced VanVleet to take a contested three-pointer if they were to survive into overtime. However, the shot was long and Chicago survived a 111-108 scare, being undefeated after four games. This was the first time that Zach Lavine won four straight regular-season games for the first time in his NBA career.
Apart from scoring Demar dimed six assists and grabbed four rebounds additionally being perfect 10-of-10 from the foul line. Lavine was also impressive especially the second-half performance to finish the game with 22 points and five assists.
Overall, Chicago had a pretty solid offensive game with five guys scoring in double figures. They shot 48.1 percent from the field (61.2 TS%) and knocked down 44 percent of their 3-point attempts. They did have 12 turnovers, with most of those coming late, but they did a much better job forcing the Raptors into mistakes. Chicago had 27 points off 21 Toronto turnovers, once again showing their ability to wreak havoc on opponents who give them chances to take away the basketball.
Chicago like the other game started sluggishly on offense, though the Raptors failed to make most of it. It was again Demar DeRozan for the Bulls in the first quarter scoring 11 points making a 24-24 game.
Billy Donovan rotated with nine guys with four guys playing off the bench. The eagle, Alex Caruso, had eight points although defensively he was on his toes. Gathering four steals including one in clutch time.
Troy Brown Jr. led the reserves in scoring with 11 points, going 5-of-9 from the field. Javonte Green played 13 minutes and scored two points but did add three rebounds. Alize Johnson scored six points but only had two rebounds as Chicago got smoked on the rebounds, 48-28.
Raptors starting five scored in double figures, led by Anunoby alongside his 22 points. Fred ramped up a double-double game of 15 points and collected 17 assists unstabling Chicago's defense, however, were forced to turn the ball over eight times.
Gary Trent Jr. had 18 points with four makes from behind the arc. Khem Birch had 11 points off the bench for Toronto and played the most minutes from the reserves.
This was almost a really rough loss for the Bulls. Thanks to DeRozan's late-game heroics, they were still able to pull out the big win. A victory is a victory, but the performance in the fourth quarter left much to be desired, which LaVine acknowledged immediately on the court after the buzzer sounded. With the schedule really ramping up over the next month, Chicago is going to have to step up in terms of performance.
DeMar on stepping up in the clutch: "You live for those moments, honestly. You get up for those moments. I love em. Since I was a kid in my imagination, hitting big shots in a dark room. You feed into that when 20,000 fans are out there watching."