Cluj-Napoca 2021, Wta, Tennis: Winning four titles this season, Anett Kontaviet's has made her name loud and clear. She defeats Simona Halep 6-2, 6-3 in the inaugural Transylvania Open on Sunday.
Having the second seed herself while Halep ranked as the first seed did not bother Anett at all. Her battle lasted 1 hour and 10 minutes without dropping the set in the finals as well as the whole tournament.
With this title, Anett Kontaviet enters the WTA Finals claiming the last remaining spot, which will be held at Guadalajara. She will be the first player ever to represent Estonia to make the career-ending championships. If everything works in her favor she will also make her singles Top-10 debut too.
Halep was on the verge to break the Estonian early but Anett saved that breakpoint to make it 2-1. She then took the game on her side powering herself from her monstrous forehand leading the set 5-1. Halep however hot a game back but it was too late as Anett broke to pocket the set.
A similar story was followed when Halpe led the set 2-0. The game was looking destined to go to the decider set, however, the Estonian wasn't satisfied with the scoreline. She broke Halep twice to tie the set 2-2 while continuing to dominate the set. Kontaviet led 4-2 from a fiery backhand return.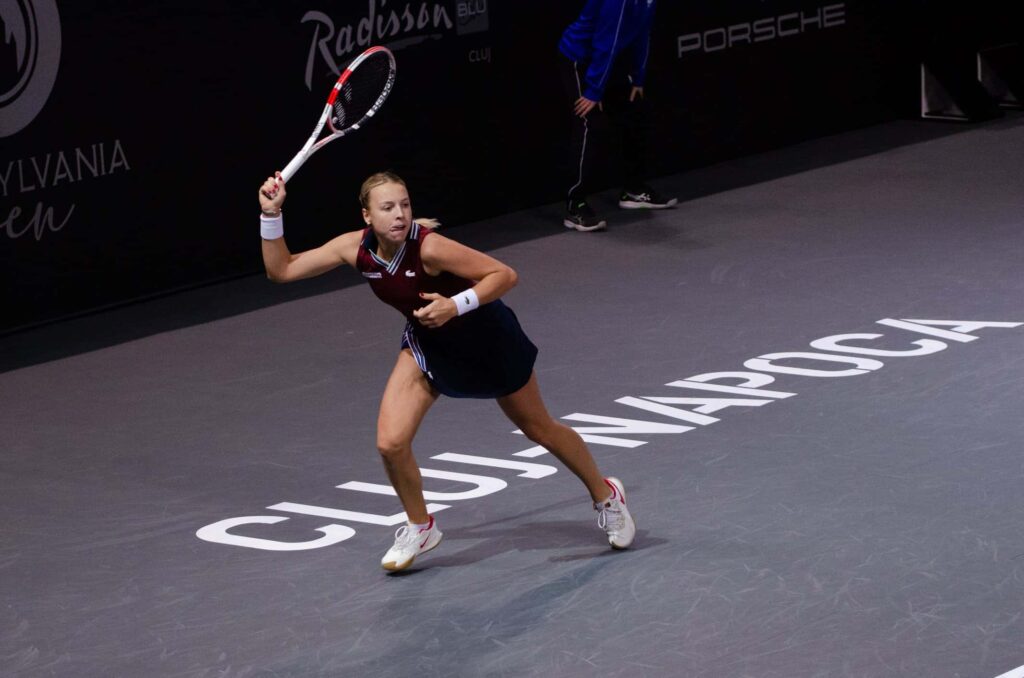 A gritty Halep put all her effort into prolonging the match, fending off three championship points before holding for 5-3 with an ace. However, in the next game, Kontaveit fired two consecutive forehand winners to garner three more championship points. A blistering unreturnable serve closed out the win on her first chance.
The Estonian slammed 21 winners to Halep's nine, and won a staggering 55 percent of points returning the Halep first serve, leading to five service breaks.
Anett Kontaviet:
"I'm still unsure of what's going on!" an excited Kontaveit said in her press conference. "Of course, I'm incredibly happy that I managed to play really well today and win the final. That was the main focus and I'm really, really proud of myself that I managed to do that."
"I believe in myself a little bit more than I did a couple years ago, and I was trying to be aggressive but also stay consistent, and not go for too much," Kontaveit said, regarding her first win over Halep. "I think she is such a good player, and I really tried to just focus on myself and not think about the three times that I had lost to her. I just took it as a new challenge."
"She deserved definitely to win the match," two-time Grand Slam champion Halep said in her post-match press. "I just tried to make it longer a little bit, but I couldn't. But many positives this week: to play a final after a tough year, it's always welcome. Even if it's the smaller trophy, it's a trophy, so I feel happy, I feel pleased with the way I played this week."