Ind vs Eng 2nd test: James Anderson's fifer ensured a quick collapse of the Indian batting lineup. While Joe Root batting 48* at the end of the day putting England in a steady position. Missed day 1, summarize it here.
Ind vs Eng day 2 1st Session: Dream start for England.
Ollie Robinson strikes on the 2nd ball of the day to get rid of KL Rahul ( 129 runs from 250 balls, 12(4) 1(6) ). The ball was pitched up Rahul looking to drive the ball but could not get the ball to roll along the ground and was caught at short cover. Very soft dismissal for Rahul. India 278-4.
Ajinkya Rahane's ( 1 run from 23 balls ) poor form continues. James Anderson doing the job for England. The ball pitched on good length seaming away from the batsman taking the outside edge to the skipper at first slip. India's overnight advantage fading away.
49 runs partnership took India close to 350.
Rishabh Pant was playing in his style. He was pulling the short ball well. On the other end, Jadeja was supporting him well. India soon crossed 300.
Mark Wood's pace did the job for England. Good Length ball Pant ( 37 runs of 58, 5(4) ) trying to cut the ball but founding himself edging the ball to Jos Buttler. India 331-6.
Mohammed Shami ( 0 from 2 balls ) played just 2 balls. Chipping a catch to short mid-wicket for an easy catch. It was Moeen Ali's only wicket of the match. India 336-7.
Jadeja took the charge in his hand, as he fired some shots.
1st session: [ 26 overs ] [ 70 runs ] [ 4 wickets ] [ 2.69 run rate ].
Day 2 post luch: So much drama.
Jadeja and Ishant Sharma's running between the wicket was extremely bad. It can be seen that they don't bat together at all with so many runout chances.
James Anderson got Ishant Sharma ( 8 runs from 29 balls, 1(4) ) LBW in front. Who was found misjudging the line completely. India 362-8.
Just 2 runs later, James Anderson again struck. However, Jasprit Bumrah ( 0 from 6 balls ) was gone on an outswinger to Jos Buttler. India 364-9.
Mark Wood got Ravindra Jadeja ( 40 runs from 120 balls, 3(4) ) with a quick bouncer. Jadeja pulling the ball in the air to get caught by James Anderson. You can not keep Anderson out of the game. Can you? India 364 all out.
Bowling Figures: James Anderson [ 29-7-62-5 ], Ollie Robinson [ 33-10-73-2 ], Sam Curran [ 22-2-72-0 ], Mark Wood [ 24.1-2-91-2 ], Moeen Ali [ 18-1-53-1 ].
England started sensibly.
Dom Sibley and Rory Burns started sensibly against some quality bowling. Mohammad Shami and Jasprit Bumrah asking out of the syllabus questions. England would be happy going into tea.
session 2: [ 24.1 overs ] [ 41 runs ] [ 3 wickets ] [ 1.70 run rate ].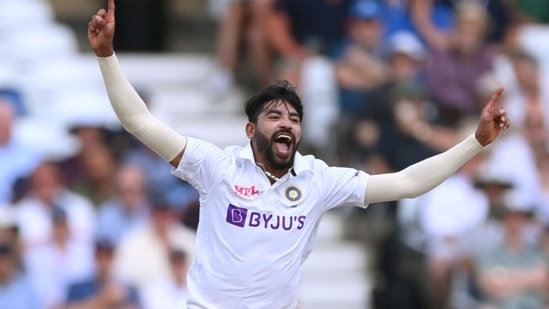 Ind vs Eng day 2 last session: Siraj's double in 1 over.
England losing 2 wickets in a single over of Mohammed Siraj. Firstly, It was Dom Sibley ( 11 runs from 44 balls, 1(4) ), caught at short mid-wicket, his usual place to get out. Strategy working for India. Then, It was Haseeb Hameed ( 0 from 1 ball ) out for a golden duck cleaned bowled. Hameed missing the line completely. England 23-2.
85 runs partnership gives England some hope.
Joe Root started where he left in the 1st innings. On the other end, Rory Burns was also scoring his boundaries from time to time. Indian bowlers bowling short balls. However, Burns and Root were answering them in boundaries.
Some scary moments here and there but nothing fruitful for team India. Every time Joe Root drives the ball, it looks wonderful to watch. Just amazing.
Mohammed Shami using his experience got Rory Burns trapped on the crease on an inswinger. England 108-3. What a bowling performance from India. A treat to watch. England finishes the day with Root ( 48* runs from 75 balls, 6(4) ) and Bairstow ( 6* from 17 balls ) at the crease 119-3.
session 3: [ 31 overs ] [ 96 runs ] [ 3 wickets ] [ 3.10 run rate ].
Bowling Figures: Mohammed Shami [ 8-2-22-1 ], Mohammed Siraj [ 13-4-34-2 ].
Watch Ind vs Eng 2nd test day 2 highlights here.