Indian Wells Masters: Paula Badosa having a wonderful tournament fends off Ons Jabeur to became the first Spaniard to advance into the final. Her finals opponent Victoria Azarenka claims victory against Jelena Ostapenko.
Two times champion on the verge of third.
Victoria Azarenka gathered around a stirring comeback victory in the Indian Wells Masters semifinals, as the former World No.1 from Belarus defeated Jelena Ostapenko of Latvia, 3-6, 6-3, 7-5.
The Belarus champ fought for around 2 hours and 20 minutes to take her victory over No.24 seed Ostapenko.
Quotes from the winner: "I thought the most important [thing], I would say today, was my fight, that I can be really proud of," Azarenka said, in her post-match press conference. "Analyzing the game, it was a lot of probably things that I could have maybe done a little bit better.
"Overall she was playing really incredible in the first set, not giving me much to do. I was just trying to find opportunity, actually create opportunity, for me to get back into the match, to take a little bit more control in the match, really fight for every ball."
The start belonged to Ostapenko, who cruised to a 3-0 lead firing groundstrokes from both wings. The former champ did narrow the lead, but the Latvian reclaimed it quickly. Ostapenko took the first set with 15 winners to Azarenka's only 4.
Although down a set, Azarenka navigated in the right direction in the second set. She increased pressure with aggression and draw errors from the Ostapenko forehand. Her returns returned to play taking four straight sets when breaking for 4-2, and also saved two break points in the next game.
The third set was breaking party as both would exchange breaks at 3-3. Ostapenko was able to come back from two break points at 3-3 but succumbed at 5-5, ceding the break to give Azarenka to serve the match out.
At 6-5, Ostapenko went for broke, mixing a deft lob in with her groundstroke missiles as she held three break points to send the match into a tiebreak. But Azarenka saved some of her best serving for the very end, blasting her way out of trouble, and eventually converting her first match point to reach a third Indian Wells final.
Azarenka: "I think my season has been tricky," Azarenka added. "There were parts where I physically couldn't necessarily bring that extra level, extra fight, which was very frustrating. Then there were parts where I felt that I was looking for something to add, and I didn't necessarily know what it was. It was a lot of searching in the season, a lot of kind of stepping into the unknown.
"I feel like right now I'm a bit more settled with a bit more structure, a little bit more discipline, which makes it not necessarily easier but a bit clearer what I need to do. So it doesn't take extra energy on that, so I can kind of focus my energy more on the fighting for every ball."
Badosa beats Ons in a energy soacking encounter.
Defeating Ons Jabeur, 6-3, 6-3 to secure her 40th win of the season, Spain's Paula Badosa advances into the biggest final of her career.
The Spaniard will be facing a former World No.1 Victoria Azarenka for the title in her first head-to-head meeting. Having to do some tough battles in few weeks defeating the likes of Barbora Krejcikova and Angelique Kerber, Badosa will have to beat another champion to earn a second WTA title.
Badosa's win over French Open champion Krejcikova in the fourth round was her fourth Top 10 win of what has been a breakout season. She began the season ranked No.70 and is now projected to make her Top 20 debut on Monday. 
"Mentally I think I'm very confident," Badosa said. "I'm believing every point. Every day I'm working very hard as well. I think I'm progressing on a little bit of everything and that's what is making my level going up. That's why I'm in a final and playing against the best of the world."
Opening the match with an immediate break of serve Paula Badosa consolidated for a 2-0 lead. With the drop shot, working Ons Jabeur closed the deficit and disrupted Bados's baseline rhythm. However, Badosa was steady and patience throughout the day which ultimately won the match. Badosa then took the final three games to take the opening set.
Badosa was serving gracefully at nearly 70% first serve and winning 75.6% of her first serve points. Ons had her chances though but failed to convert nine of the 10 break point she got.
"Today I feel like I did something different than other days," Jabeur said. "I was really fighting hard even though I knew I wasn't playing very well. I just tried. I tried to think. I tried to do whatever in my power. Honestly I don't regret much because today she was a much better player."
Ons Jabeur despite the loss will be making history on Monday as the first Arab to rank WTA or ATP Top 10. The second set was close as hell decided by just one break of serve. Badosa stayed level with Jabeur before taking a 3-2 lead. And at 15-40 Badosa broke on her second break point to lead 4-2.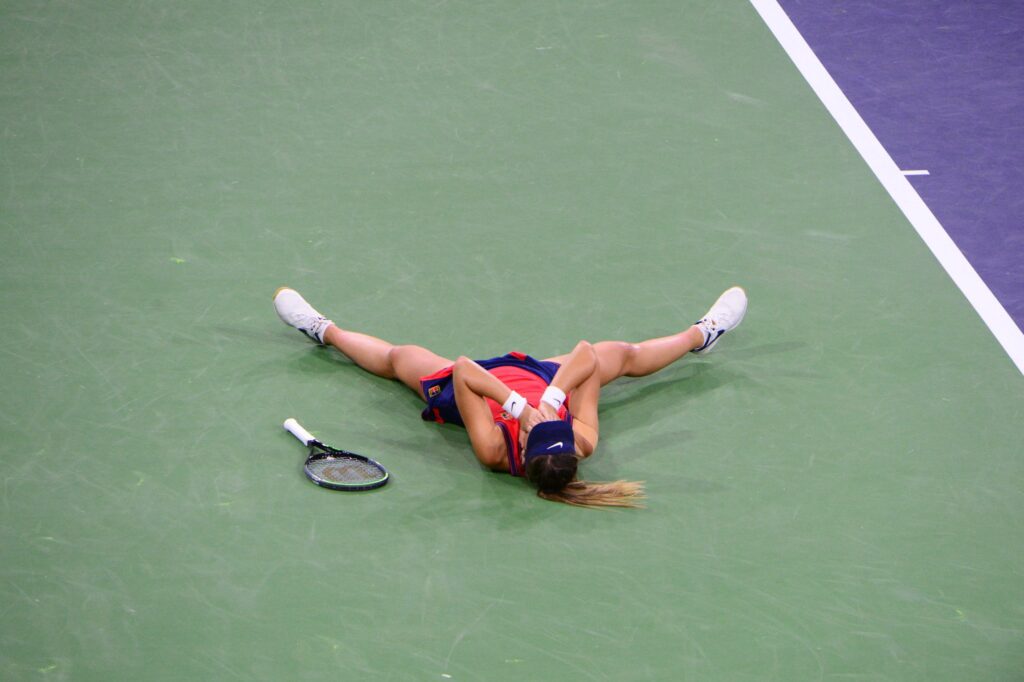 Badosa had three chances to break for a fifth time and seal the match at 2-5, but Jabeur found some of her best shot-making to save three match points and hold in a dramatic penultimate game, coming through six deuces to stay within a break at 3-5. 
The final game was not short on drama. With Oscar winner Charlize Theron cheering from the stands, Jabeur earned triple-breakpoint to get back on serve at 3-5, 0-40. But Badosa did not flinch, saving all three break points and finally closing out the match on her seventh match point.