Hoops Habit: As it stands now, the Los Angeles Lakers have nine players aged 32 and over entering the 2021-22 season.
Granted, this includes a combined 48 All-Star appearances and a host of other personal accolades. However, the challenges and grind of an 82-game regular season can never be underestimated, as each of these respective players will gladly testify. Thus, it's incredibly likely the success of the Lakers this upcoming season will somewhat revolve around the production of their younger brigade.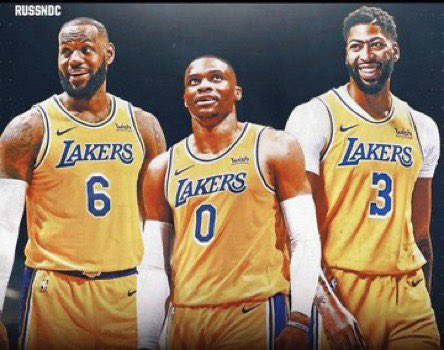 The additions of Kendrick Nunn and Malik Monk will be vital to the success of the LA Lakers for upcoming season.
In particular, the arrival of free agents Kendrick Nunn and Malik Monk, while far from household names, are destined for a sizeable role in the Lakers' rotation. Aside from the returning LeBron James, eight of the nine players aged 32 and above were signed in the offseason, with the franchise clearly having championship No. 18 firmly in their sights.
We will start with Nunn, who after coming out of college undrafted and spending a year in the G League, has spent his first two seasons in the league with the Miami Heat. Of course, this featured a trip to the 2020 Finals, where although he played only a supporting role, Nunn's experience gained from such a setting was naturally invaluable.
Over 123 career games, Nunn has averaged 15.0 points per game, with his excellent 48-38-93 shooting splits last season illustrating just how efficient this combo guard can perform, and the sort of production should be anticipating. Comfortable both on and off the ball, Nunn's ability to score in a variety of ways is bound to provide a great complement to his new teammates.
The other newcomer is Monk, who unlike Nunn is a former lottery pick of the Charlotte Hornets, where he's spent the first four years of his career. But like Nunn, Monk is a pure scorer capable of putting up his huge numbers in a small amount of time. In 15 games last season in which he played at least 25 minutes, Monk averaged 19.3 points per game while shooting at a 46.4 percent clip from three on 7.5 attempts per game.
The most interesting aspects of this duo arriving in Los Angeles centers around where they will fit in the Lakers' backcourt rotation. In addition to the arrival of nine-time All-Star Russell Westbrook and incumbent 20-year old Tales Horton-Tucker, the Lakers also welcomed in the veteran trio of Rajon Rondo, Wayne Ellington, and Kent Bazemore.
With this in mind, it's very difficult to forecast just how much the duo of Nunn and Monk will feature to commence the season. But when taking into account the ball-handling duties of James and Westbrook, players with the shooting touch of Nunn and Monk surrounding such stars are bound to prosper in such a setting, especially when you consider the Lakers finished a paltry 21st last season in 3-point shooting.
But most of all, it's the age demographic that set should set their roles apart. Aside from Halen-Tucker and incumbent All-Star Anthony Davis, Nunn (26) and Monk (23) are the only players on the current Lakers roster still in their 20's.
Given the nature of a grueling season and the skillsets these two bring to the table, the Los Angeles Lakers' under-the-radar signings of Kendrick Nunn and Malik Monk could easily prove to be their most decisive of this offseason.