Tata Steel Chess 2022 R6: A great day of the Classical World Chess Champion Magnus Carlsen as he takes down Richard Rapport comprehensively. He with this win has joined the leaders.
Carlsen and Catalan are inseparable as, after 1.Nf3, they reached the Open Catalan variation. This line, however, was played 16 years ago by Carlsen and hence it took the players some time in the opening phase.
"It feels like on all moves we both have a lot of alternatives, so there was a lot to consider," said Carlsen. "We sort of ended up making the most obvious moves, which usually happens even after a long think."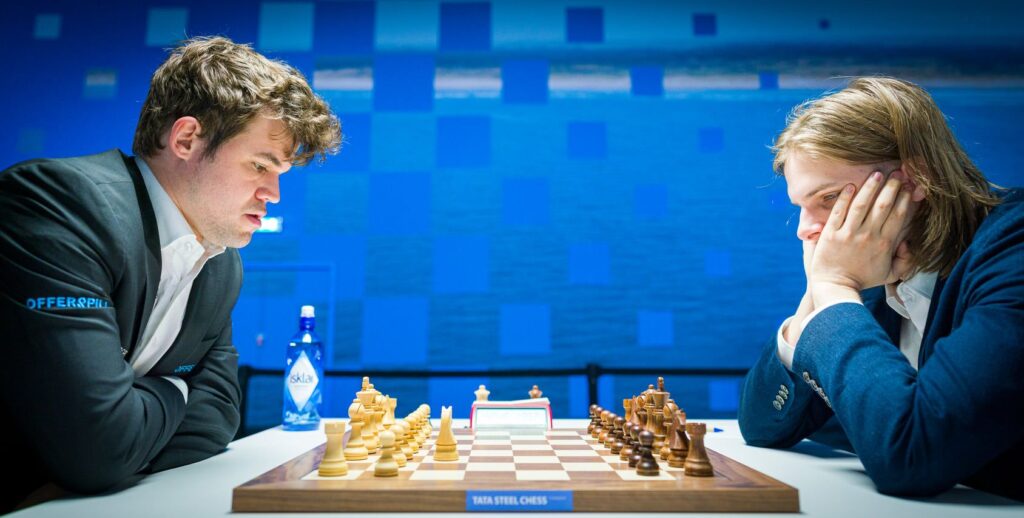 The game became new on just the 8th move when Carlsen pushed 8.Qc1. Rapport decided to give the pawn he earned back for his quick piece activity.
The middlegame was played concretely by both players but the passed a-pawn became a headache for Rapport. When it seemed like a draw at some point instantly became winning for White.
"I really needed a win today after some missed opportunities in the last round. Now everything is looking a lot better," said Carlsen.
The clash of the titans between Fabiano Caruana and Anish Giri was on the board. It was their 35th classical game out of which 28 games were drawn and were tied at 3-3.
Fabiano Caruana opened with double fianchetto but Giri's was up to the mark in reply. The American was way ahead on time and it took him 19 moves to make the first trade.
The American GM had found some tactical idea with his pawn sacrifice on the 24th move but a missed chance on the 31st move pushed his chances back. Giri was the one pushing with a big advantage but Caruana was managing well.
The game however turned bitter for Caruana when he blundered on the 40th move. That particular move gave Giri the full point and also a lead in the head-to-head battle.
The defending champion drop points again this time against Sergey Karjakin. In their first classical encounter, Foreest tried a new idea playing the Italian putting king's bishop on b8. However, Sergey played sensible moves and got a big advantage.
Especially 24.b4 was nice, and slowly but surely Karjakin improved his position further until he won a pawn on move 36. The Russian GM then quietly continued maneuvering and eventually converted the full point on move on move 65. An outstanding game by the former world championship challenger, described as a "positional masterclass" by Steil-Antoni.
The leader Vidit Gujrathi played his most difficult opponent, Jan-Krzysztof Duda, against which he has never won a classical game before. While Duda managed a 4-0 score with 4 draws in eight encounters.
Here too they played a draw and Vidit dropped points. It was a Semi-Tarrasch game and on the 19th move, it was a novelty. "Most of the game was my preparation," Duda said afterward. "The prep goes to 25, even 30 move, sometimes."
When Vidit shifted his rook to the kingside to start an attack, Duda responded by a combination of running his pawns on the queenside and trading two minor pieces for a rook and pawn. This material imbalance was quickly restored when Vidit decided to return the minor extra material, after which Duda soon repeated moves, having more than an hour left on the clock.
Meanwhile, Praggnanandhaa held Sam Shankland for an easy draw. It was their second game after drawing the first last year in the Tata Steel Chess India. It was the 7.Nd5 line, which became tremendously popular after the 2018 Carlsen-Caruana world championship.
The 21st move was a novelty after deviating from the game Arjun-Ivic played in the 2021 Riga Open. However, in this new game, Praggnanandhaa has the chance to take away Shankland's right to the castle. After which it was an easy repetition.
After drawing with the world champion the other day, GM Nils Grandelius said that he was looking at it as a whole new tournament. "This looks like a whole new Nils!" said our co-commentators GM Robert Hess when the Swedish GM played 14…g5, which led to a favorable queen and pawn trade for Black. GM Shakhriyar Mamedyarov, who had beaten Grandelius in their only classical game, back in 2011 at the European Club Cup, couldn't have been happy with how the opening went and decided to offer a draw then and there.
GM Daniil Dubov was leading 3-0 (with two draws), but it was GM Andrey Esipenko who eliminated him in the playoff at the FIDE World Cup last year. The two Russian GMs played an old, classical line of the Open Catalan where Esipenko ended up with a positional disadvantage but then defended very well to hold the game.