F1 Silverstone Sprint: Sprint qualifiers were introduced to F1 for the first time in this season at the British GP. It was a 17 lap sprint to decide the grid position for the race on Sunday.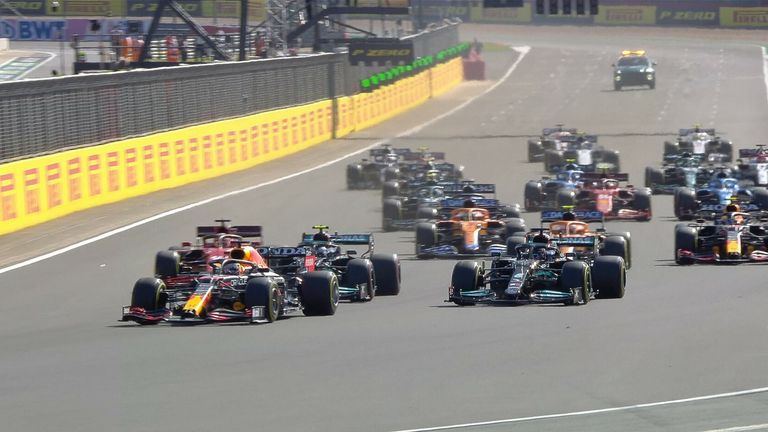 F1 Sprint: Max had the brakes on fire at the start.
Lewis Hamilton started the sprint in grid number one with max Verstappen in the second. Max Verstappen overtook Lewis Hamilton at the very beginning of the race and didn't looked back. Lewis Hamilton tried his best and was very near to take his position back from the red bull but it didn't happen.
Max Verstappen on his pole.
Perez struggles at Silverstone Sprints Qualifiers
This was not Sergio Perez's finest moment, the Mexican having a poor start from fifth to run seventh and then losing the car out of Chapel, skating onto the grass but just keeping it out of the barriers. He rejoined and made a little progress up the field – but he did not finish the race after the team told him to retire the car. That left him 15 places down on where he started and with an awful lot of work to do in Sunday's Grand Prix.
Alpine looking in good shape
Alonso was the star of F1 Sprint. The Alpine driver making the most of his fresh set of soft tires to opportunistically make up six places at the start. He knew it would get harder as his tire began to expire. While he lost positions to both McLarens, he still ended up four places higher than he started. It was his highest grid spot of the year.
Kimi Raikkonen had nothing to lose after being knocked out in the opening segment of qualifying. So he bolted on a set of soft tires making up five positions at the start. He lost one to Gasly, but crossing the line 13th was still a net gain of four places. This was his highest start of 2021 season.
Ocon's softer compound tire paid off.
Esteban Ocon gambled in the choice of the tire compound. He was one of the four to choose soft compound and the gamble paid off. He gained 3 positions by getting through Pierre Gasly, Carlos Sainz, and Sergio Perez. Esteban finished 10th and for the second time, this year both the alpine cars are in the top 10.
watch the highlights of f1 Silverstone Sprint Qualifying here.