Ind vs Eng 3rd test day 1: James Anderson all over the Indian top order. England pace attack back to pin down India for just 78 runs in the first innings. England on top after day 1.
India won the toss and decided to bowl first.
Line ups:
India: Rohit Sharma, KL Rahul, Cheteshwar Pujara, Virat Kohli (c), Ajinkya Rahane, Rishabh Pant (wk), Ravindra Jadeja, Mohammed Shami, Jasprit Bumrah, Ishant Sharma, Mohammed Siraj.
England: Rory Burns, Haseeb Hameed, Dawid Malan, Joe Root (c), Jonny Bairstow, Jos Buttler (wk), Moeen Ali, Sam Curran, Ollie Robinson, Craig Overton, James Anderson.
India all out for just 78: Ind vs Eng 3rd test.
Starting the innings, James Anderson striking straight away with a fuller delivery. KL Rahul driving the ball to get caught behind. India 1-1.
Pujara was also short-lived with a beautiful outswinger from James Anderson. He was also caught behind. Anderson was top of his game.
Kohli was Andrson's third victim. Again an outswinger and again an outside edge. A very full delivery just like KL Rahul, Kohli looking to straight drive the ball was caught behind. What a spell from James Anderson. India 21/3.
The pair from Mumbai started to build the innings until Robinson broke Rahane's patience to follow an outswinger to the keeper.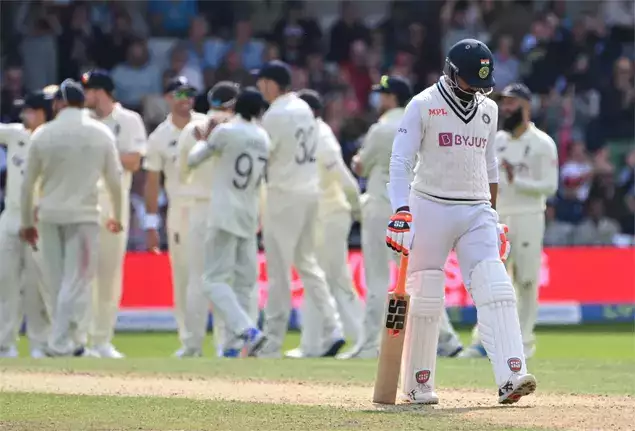 It was then just a matter of 22 runs for team India to stumble. Pant, Jadeja, Rohit, were the last hope and it was broken pretty quickly.
A batting disaster for India. Veteran pacer James Anderson ripped Indian top order with the figures of 3 for 6 in 8 overs. Sam Curran and Craig Overton took 2wickets each after lunch with Overton finishing with 3/14 in 10.4 overs.
Bowling Figures: James Anderson: [ 8-5-6-3 ], Ollie Robinson: [ 10-3-16-2 ], Sam Curran: [ 10-2-27-2 ], Moeen Ali: [ 2-0-4-0 ], Craig Overton: [ 10.4-5-14-3 ].
England lead by 42 with 10 wickets in hand.
Rory Burns and Haseeb Hameed stayed strong till the end to finish the day with England 120-0. England lead by 42 runs.
Starting the innings it was never too tough for the England batters as the Indian attack fizzled down. Both batters with immense focus played a sharp and positive inning to remain unbeaten.
What seems interesting is the way Indian bowlers bowl vs the England pacers. India being shorter in length with the majority of balls finishing outside the off-the-stump. While England's pitch map suggests fuller and finishing at the stumps.
The day completely belonged to England. It will be interesting to see what India brings to the table on day 2. Stay Tuned.
Watch Ind vs Eng 3rd test, day 1 highlights here.