Tokyo Olympics tennis Semi-finals: The biggest news coming so far, N. Djokovic (Serbia) lost in the semi-finals round of the singles event. Read about the Quarter-Finals here.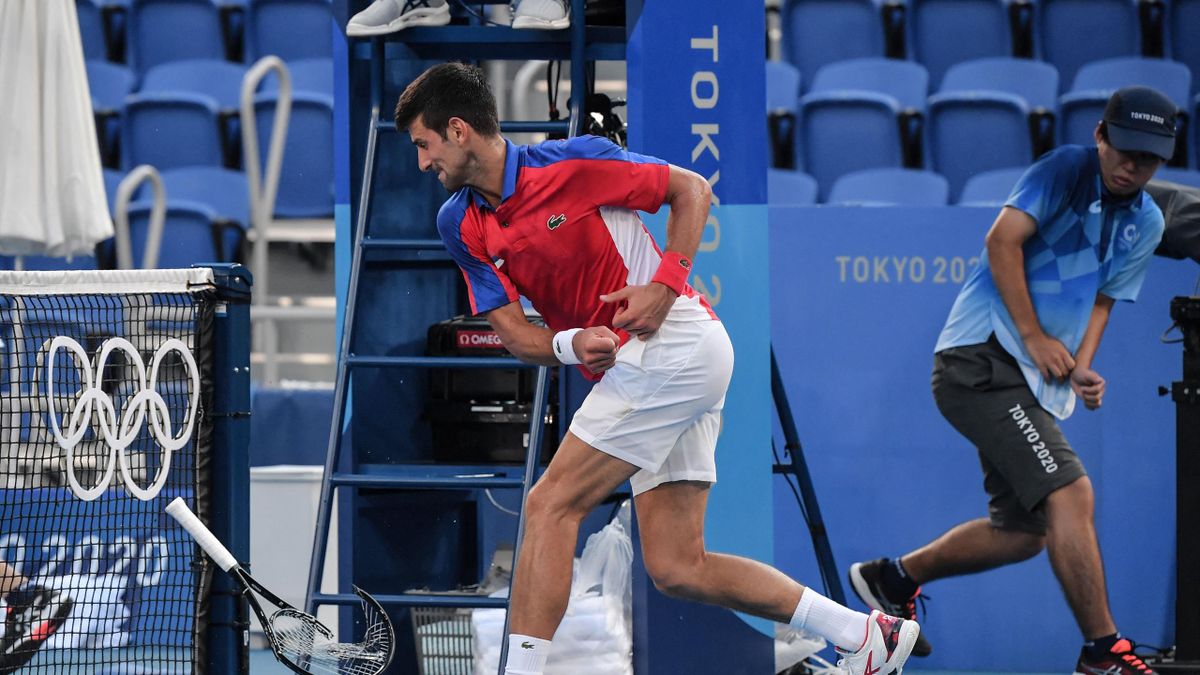 Men Singles:
N. Djokovic (Serbia) vs A. Zevrev (Germany):
Djokovic won the 1st set quite easily [ 6-1 ]. Zevrev however bounced back with a set of his own [ 3-6 ]. Zevrev would give Djokovic a taste of his own medicine with a revengeful last set score [ 1-6 ]. Gold medal hopes from Djokovic are broken and now he will battle it out for bronze one.
A. Khachanov (ROC) vs P. Carreno (Spain):
Khachanov made it look easy against Carreno. He won in straight sets of [ 6-3 ] [6-3]. It was a one-sided battle. Khachanov through to the finals and will fight for gold against A. Zevrev. While Carreno will face Novak in the bronze medal match of the competition.
Women Singles:
M. Vondrousova (Czech Republic) vs E. Svitolina (Ukraine):
It was a straightforward match for Vondrousova. Winning in straight sets [ 6-3 ] [ 6-1 ]. Not a good game from Svitolina who was playing nicely until now. Although she will get a chance for a bronze medal podium.
B. Bencic (Switzerland) vs E. Rybakina (Kazakhstan):
The first set was neck to neck going to the tie breakers. B. Bencic was able to win the tiebreaker with ( 7-2 ). E. Rybakina bounced back stronger with a [ 4-6 ] set. But Rybakina could not maintain the momentum and losing the 3rd set [ 6-3 ]. B. Bencic will be up against M. Vondrousova for the gold medal. While E. Rybakina's opponent will be E. Svitolina.
Men Doubles: Semi-Finals
M. Pavic and N. Mektic (Croatia) vs A. Krajisek and T. Sandgran (USA):
Great game from the Croatian pair as they took on team USA. The first set went to Croatia [ 6-4 ] with a solid approach and to start the game. Team USA was expected to bounce back and take the game to the decider. However, it was a similar story. Team Croatia won the set and the game with another [ 6-4 ] set.
M. Cilic and I. Dodig (Croatia) vs M. Venus and M. Daniell (New Zealand):
Another Croatian pair in the semi-finale. A much easier match for team Croatia. they won the game in straight sets without much hassle. The scoreline was [ 6-2 ] [ 6-2 ]. It is all Croatian final, with all the four players from Croatia. While it will be team USA vs team New Zealand in the bronze medal match-up.
Women Doubles: Semi-Finals
V. Golubic and B. Bencic (Switzerland) vs L. Pigossi and L. Stefani (Brazil):
Match started with a tough first set of the match. Both teams were trying to make an impact. But the see-saw set was won by the Swiss team [ 7-5 ]. With that winning momentum, they walked past team Brazil with [ 6-3 ] in the 2nd set. Two medal chances for B. Bencic. Wonderful performance from her.
K. Siniakova and B. Krejcikova (Czech Republic) vs E. Vesnina and V. Kudermetova (ROC):
The first set went to the Czech Republican team with [ 6-3 ] on the board. Although Russian players equalize with their own [ 3-6 ] set victory. It was the tiebreaker to decide the winner. It was even before the Czech team pulled themselves ahead in the tiebreaker ( 10-6 ). Brazil and ROC will fight it out for the bronze medal while the Swiss and Brazil will go for the gold.
Mixed Doubles: Semi-Finals
N. Djokovic and N. Stojanovic (Serbia) vs A. Karatsev and E. Vesnina (ROC):
Novak was again in action this time in the mixed doubles. It was clear that it was not gonna be easy. The competition was seen in the first set going into the tiebreaker. ROC team won the set with ( 7-4 ) TB. The second set was also a similar story with ROC winning it [ 7-5 ]. ROC team booked a well-deserved final appearance.
A. Pavlyuchenkova and A. Rublev (ROC) vs J. pears and A. Barty (Australia):
The match would go to the 3rd set tiebreaker. Team Australia winning the first set [ 5-7 ]. ROC winning the second set [ 6-4 ]. After a back and forth in the tiebreaker team ROC won [ 13-11 ]. It was all ROC in the finale. A. Barty failed to win gold in any event at this Olympics but will battle for the bronze medal in the mixed doubles against the team Serbia.