US OPEN 2021: All teen finals between Leylah Fernandez and Emma Raducanu were an enjoyable one. Both players aiming for the title after fighting hard in the qualifiers and knockouts.
Both players came to the finals beating the seeded players in almost every round. It was their second meeting on a tennis court. They had once played each other at the Wimbledon Juniors in the round of 32 in 2018, where Emma dominated Leylah with authority.
Leylah is ranked world number 73, while Emma is ranked 150. However, the rankings do not show the full story. If you have seen these two play in the earlier rounds, you can understand what I am talking about.
The match started with a load of excitement around the fans and audience. Emma serve first, but Leylah's forehand cross-court winner started the points tally. Emma Raducanu got early breakpoint opportunities which Leylah battled hard to save but was unable to do so. But the advantage could not last long as Leylah broke right after to get it level.
The set was tied 3-3 and Emma serving and taking the set successfully. She was now pumped up going forward with confidence and belief. So does Leylah on the other end, holding her serve tieing the set 4-4.
Emma Raducanu serving with purpose held her serve with ease and grace. Every point was cheered and that made both players put in efforts harder than usual.
With Fernandez serving to hold the set, Emma saw her opportunity and crunched on it to Duece the game. A fantastic forehand cross-court from Emma which Leylah was unable to control. Setpoint for Emma which was powerfully grabbed by a forehand down the court.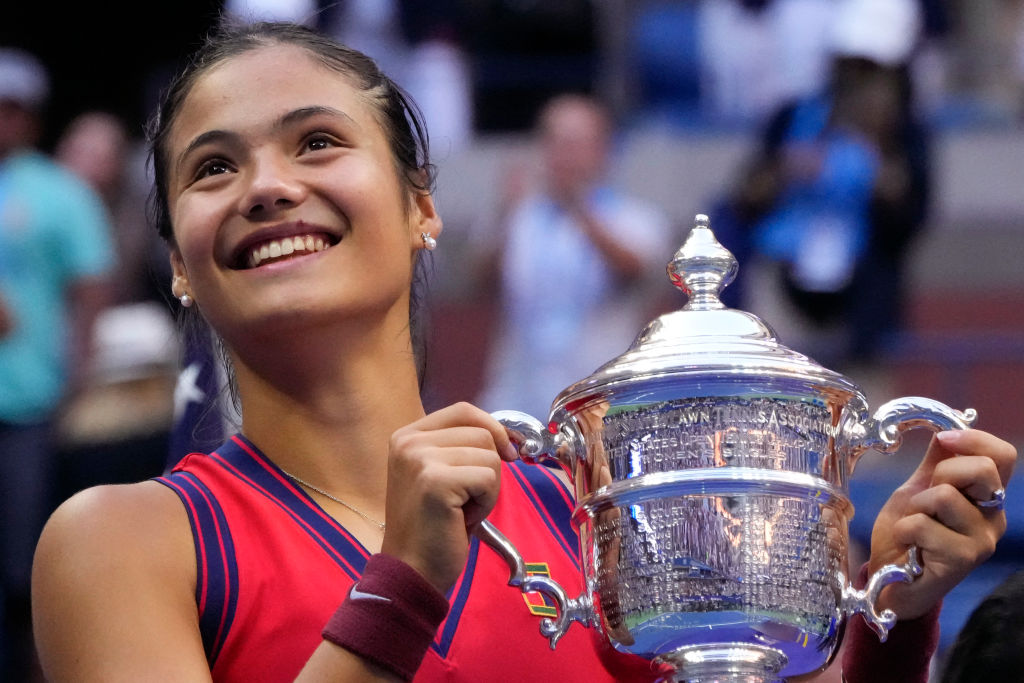 What a way to take the set 6-4. A FUN FACT: Emma Raducanu has not dropped a single set throughout the US OPEN 2021 finals journey.
Hopes were high of Leylah equalizing with a second set win. It was looking like it would be happening when Leylah was presented with 3 breakpoints opportunities. With Fernandez leading 2-1 and also serving to increase the advantage.
However, Emma's determination denied the advantage as well as she leveled the match. It was now Emma Raducanu's turn to take the advantage of the breakpoint. She breaks again to take lead the set 4-2.
Emma held the next serve and Leylah held it too. It was Emma to serve out the match. Nervousness all around the stadium. Both players itching to pull the game in their direction. It was an advantage to Raducanu in the game, A match point opportunity for her, Which she gladly accepted with an Ace. Marvelous stuff from teenage sensation to go 10 matches without dropping a set.
Emma Raducanu lifts the US OPEN 2021 Women's title with a score of 6-4, 6-3. What a tournament for both the players. They have taken the tennis world by storm.
Interview with 2021 Women's US OPEN champion.
You have been in new york for 3 weeks. Qualified and you just became US OPEN champion, can you put that into words?
"Not at all. Honestly, I am still just so shocked, still in the moment. And I can't believe I came through that last service game. It absolutely means everything to hold this trophy. And I don't want to let it go right now."
Talk to me about, sort of the start of the match. Your tension, nervousness coming in, how did you feel the big inning?
"Yeah. Honestly, yesterday and this morning there was a bit of like weird feeling that I could not acquire to put my finger on. I did not know what it was but I think that's just normal and when I came out on Court I felt completely high. I fell completely like business as usual. I was focusing just one point at a time. I think that the level was extremely high. Both of us were playing some unbelievable tennis and I have to fight really hard to just cling on the first set and then keep my nose in the second."
What did you feel the key area for you to sort off be able to dominate your game style against Fernandez?
"I think it was implementing my serve and return. I don't think I served the best as I have been throughout the tournament. But, Honestly in the key moments, It definitely helped. I came out with some clutch serve when I needed them. And I think changing direction as early as possible because If you gave it to her a couple more times, she would change on you and you were running and she is extremely good at that."
Records.
1. She becomes the first British woman to win a grand slam in 44 years.
2. She is the first-ever qualifier to win a Grand Slam.
Watch the US OPEN 2021 Women's finals highlights. HERE.