Mumbai Indians will restart their IPL 2021 campaign in the UAE against arch-rivals Chennai Super Kings. Here's a look at their full schedule for the UAE leg. check out CSK's schedule as well.
MI vs arch rival CSK
Mumbai Indians were one of the first teams to reach the UAE. They have begun their preparations for the second phase of the Indian Premier League ( IPL ) 2021. They will resume their campaign vs their arch-rivals Chennai Super Kings ( CSK ) on the restart night.
Mumbai Indians are without their captain, Rohit Sharma, and their start pace bowler, Jasprit Bumrah, as they are busy in the test series vs England. Suryakumar Yadav is also a part of the Indian squad and will join the MI camp after the series concludes with the duo of Rohit and Bumrah.
MI in 4th spot at the restart.
When COVID 19 hit IPL earlier in May, Mumbai Indians were sitting at 4th place recovering from a not-so-good start to the IPL season. The defending champions enjoyed a mixed campaign in India, facing two defeats in their first four matches before bouncing back with back-to-back wins against Rajasthan Royals and Chennai Super Kings in their next two games. Kieron Pollard played a brilliant knock to single-handedly power MI to a thrilling last-ball win over CSK in their final game of the first leg.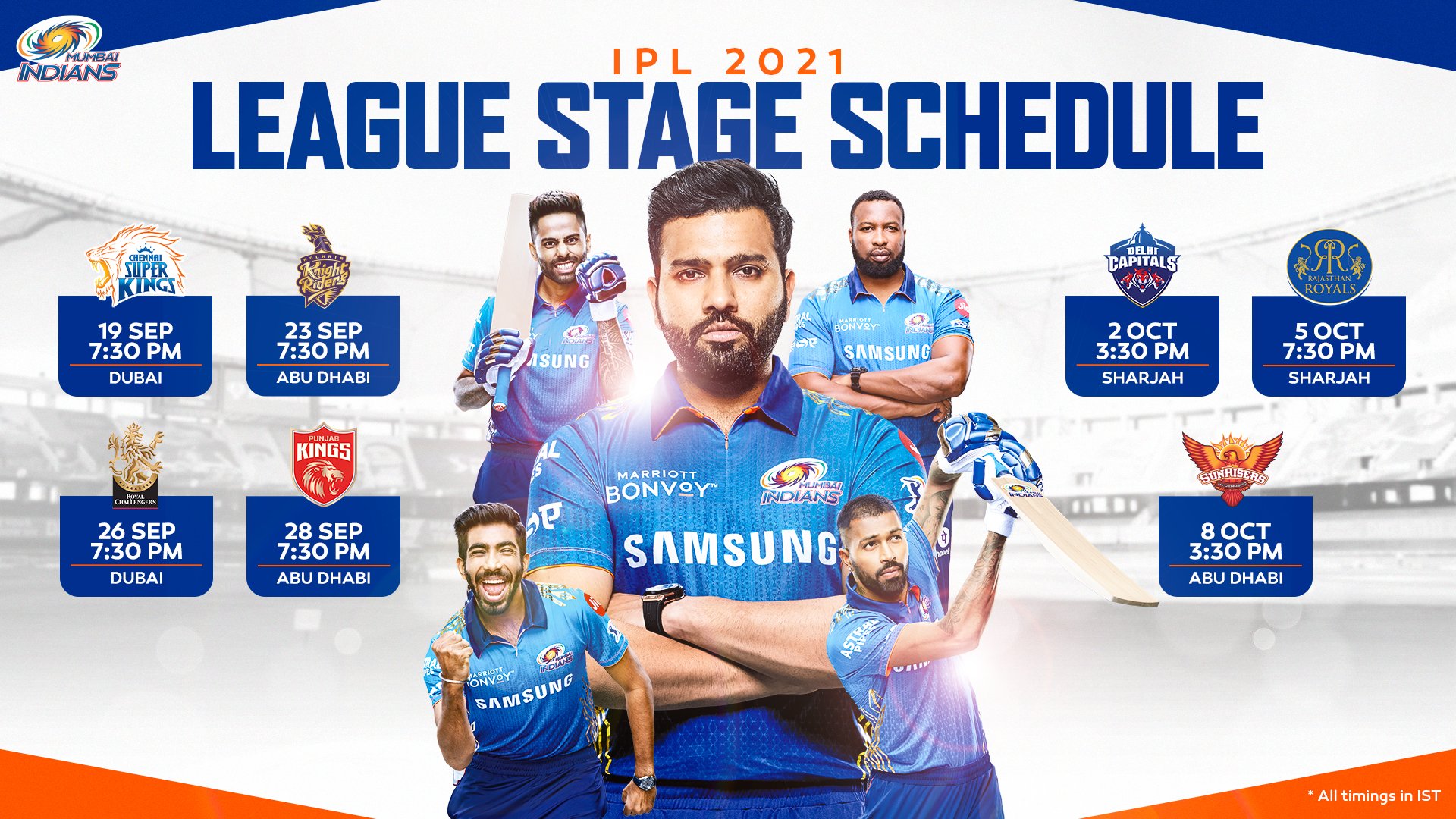 MI's UAE IPL schedule.
Mumbai Indians will be hoping to make it count when they take on CSK in their first game of the UAE leg in Dubai. They will take on Kolkata Knight Riders and Royal Challengers Bangalore in their next two matches after facing CSK. Check out Mumbai Indians' full schedule for the UAE leg of IPL 2021 –
September 19, 2021 (7:30 PM)- Mumbai Indians vs Chennai Super Kings – Dubai
September 23, 2021 (7:30 PM)- Mumbai Indians vs Kolkata Knight Riders- Abu Dhabi
September 26, 2021 (7:30 PM)- Mumbai Indians vs Royal Challengers Bangalore- Dubai
September 28, 2021 (7:30 PM)- Mumbai Indians vs Punjab Kings- Abu Dhabi
October 2, 2021 (3:30 PM)- Mumbai Indians vs Delhi Capitals- Sharjah
October 5, 2021 (7:30 PM)- Mumbai Indians vs Rajasthan Royals- Sharjah
October 8, 2021 (7:30 PM)-Mumbai Indians vs Sunrisers Hyderabad- Abu Dhabi
Mumbai Indians will hope to continue their winning run on the resumption of the tournament and will look to secure a spot in the playoffs once again this year.