Premier League 2021, Chelsea vs Everton: A strike from Mason Mount in the 70th minute was equalized by Jarrad Branthwaite to end the match 1-1.
The star for the Everton team was certainly, Jordan Pickford. He was on his toes all evening to save nine shots. It was a night to remember for the Everton fanbase.
The Omnicron crisis has started to hit the sports world and many matches are being put down. Players are tested regularly and so was the case for Chelsea. Missing their key trio of Romelu Lukaku, Timo Werner, and Callum Hudson-Odoi.
The visitors on the other end were also short of their full strength. Missing from the squad were Richarlison, Salomon Rondon, Lucas Digne, Dominic Calvert-Lewin, and Andros Townsend. Benitez looking through that tight selection window gave Eliis Simms his debut.
How did Chelsea went on the field?
The start painted a beautiful picture for the home fans with utter domination with possession and attacking opportunity. Chelsea ended the game keeping 80% of the ball to themselves.
They also shot 23 shots out of which only 10 were on target. On the flip side, Everton only managed to hit 5 shots and three found their target.
Reece James and Mason Mount failed to make the most out of the opening opportunity with a wide shot and finding Pickford's hand. It would not be a surprise if Chelsea would have been 2 to 3 goals up under the 10 minutes mark.
However, as the time went past, the visitors too were feeling a bit settled and looking for counter opportunities when Chelsea was attacking out of desperation at times.
Pickford denies Chelsea a handful of goals.
To be clear, Pickford was on his top game against Chelsea or can we say Mason Mount in particular. Having Marcos Alonso on the left to deliver crosses while also getting some good balls from Antonio Rudiger, Mason Mount was a busy character.
Jordan Pickford saves one of the best shots in his career just before the halftime mark. Mason Mount was just six-yard out, looking to muscle past the Everton Wall but a reaction as great as that was difficult to handle.
Everton's shot-stopper tipped round the post from Mount to open the second half as they continued their battle before Ruben Loftus-Cheek flicked over the bar from Alonso's corner.
The night seemed long for the Chelsea fans as the tension was building around a goal-less game. Reece James and Chelsea broke with Pace to give Mason Mount the needed space on right.
The run was superb and was enough to beat an inexperienced Everton defense and finally manage to get the ball past Jordan Pickford. Thus making Chelsea lead the game 1-0.
Chelsea enjoys their lead for four minutes!
Was it Chelsea playing at home or Everton? Jarrad Branthwaite scored his first Everton goal and what a time to get it. A free-kick from the left side by Gordon, delivering a nice cross to Branthwaite.
Chelsea still had plenty of time to lay siege to the Everton goal but their attacks fell flat with substitutes Ross Barkley and Saul Niguez upsetting the rhythm that made them flow in the first half.
Everton are now 14th in the Premier League table, while the said title favorite will have to settle the matter sharpening their plans. Thomas Tuchel was seen angry, mostly after Everton's equalizer on their attackers.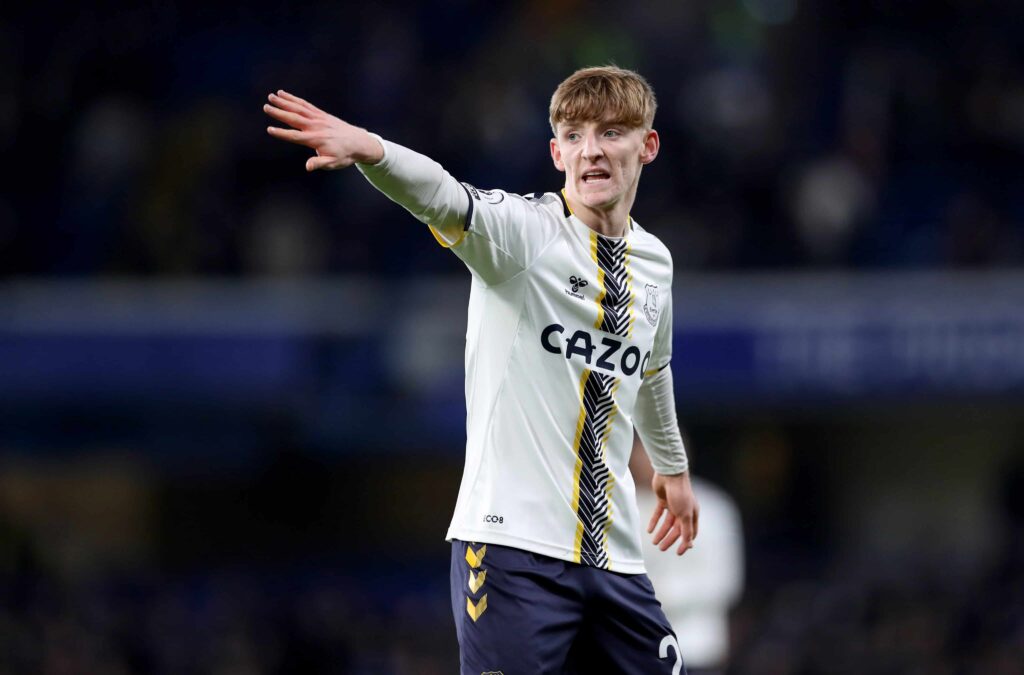 Chelsea head coach Thomas Tuchel said: "It was a freak result for this type of match. We were strong enough today and I'm not sure right now why we get punished. We see teams concede more chances than we do but we only have a draw.
"I am concerned we have too many players out; today six or seven players. I think this in the moment is the problem, one of the key problems. In central midfield, for eight weeks. For today we had our strikers out and that was the case for four weeks with Timo (Werner) and Romelu (Lukaku) out.
"We need to find the balance, be honest, critical with each other, but accept sometimes we get punished for not a lot.
"I would be more concerned if we were totally out of form, concede the first goal and then struggle to come back. It would be easier to analyse. I don't think it's too easy to analyze our situation."
Rafael Benitez: "You can say that, because we have so many issues, with injuries, with illness.
"The way the team played, reacted when we conceded, showed character. It's a great point, not just the point but the way we claimed it. Everyone realised how important and how difficult it was afterwards.
"Great character shown, we are coming back in a lot of games. The way they worked we deserved something. We have had too much bad luck with injuries. The reaction of the team was fantastic."