WTA Finals 2021, Guadalajara, Mexico: Paula Badosa joins Anett Kontaveit in the semifinals beating Maria Sakkari 7-6(4), 6-4, to remain undefeated in Guadalajara.
Badosa advanced to the semifinals in Guadalajara after Aryna Sabalenka and Iga Swiatek's match on Saturday night went into a third set:
It was the first meeting between the two. It took Badosa a 2 hour and 4 minutes of energy to extend her winning streak to eight straight victories following the Indian Wells Masters journey.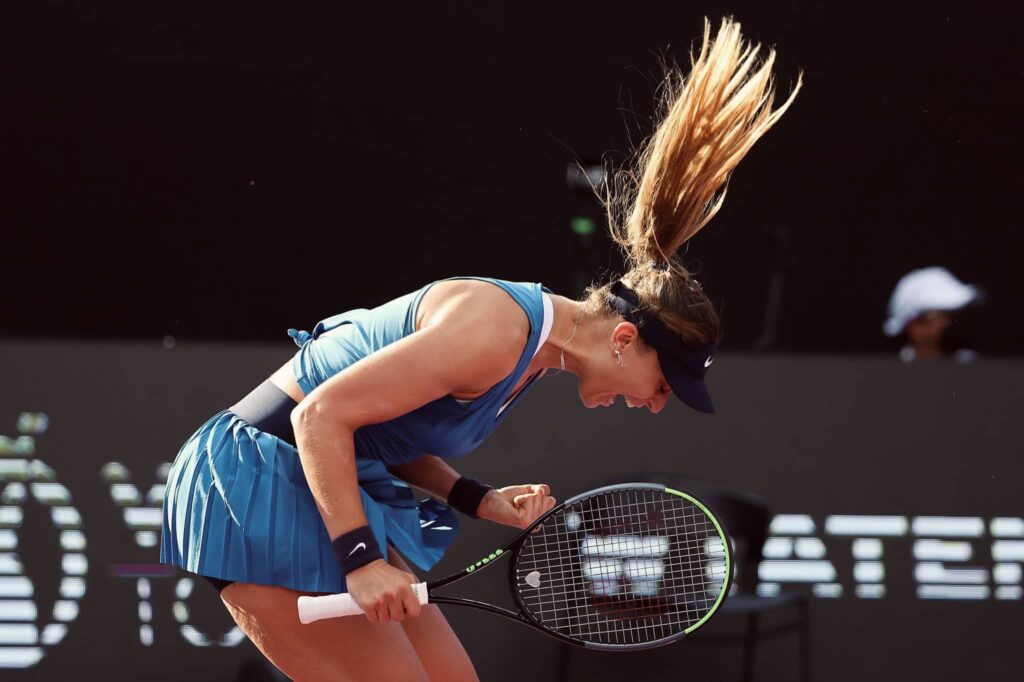 Badosa was straight away leading the opener set with 2-5. However, Sakkari would come back to send the set into the tiebreaker. The Spaniard would go up 4-0 from a powerful backhand winner crosscourt. The greek, however, gathered two points to put the score at 5-3, but an ace from Badosa lined up a triple set point.
On the second of that trio, Badosa fired a forehand winner crosscourt to notch the opening frame after a grueling 67 minutes of action. Badosa had nine winners to just four unforced errors in the first set.
Holding their opening serves in the second set, Badosa broke Sakkari early. The No. 4 seed Sakkari found success with her drop shots. Badosa was on the verge of being broken but managed to save two break points to lead the second set 3-1. Sakkari survived six breakpoints in a marathon game to rattle her way back at 3-2.
The game would get leveled at 4-4 with Sakkari's drop shots slowing things down for Badosa. Although Sakkari gain momentum, her errors gave the Spaniard a break at 5-4 and were serving for the match. The No. 7 seed, survived a breakpoint in the last game to eventually take the match after an advantage on duece.
Badosa won 71 percent of her first-service points, but only 46 percent of points behind her second serve. Nevertheless, Badosa got over two-thirds of her first serves into play, tipping the outcome in her favor.
World No. 6 had 25 winners while Badosa had 23 winners in this particular outing. However, Badosa was a lot organized with 22 unforced errors while Sakkari was just 1 short of 50 errors. Badosa had twelve break points opportunity in which she was only able to convert 3.
Paula Badosa: "I think it was quite a tough match," Badosa told the press, after the match. "I served well, I fight for every point. I knew it was going to be a battle against Maria.
"I think I stayed aggressive. I was moving well. When you win these kind of matches, I think you have to do a little bit of everything well. I think the key was a little bit in the important moments, I was quite brave and I played very good.
"I think I [got] my first top 10 win, I don't know, maybe four months ago. Everything was very new for me. I needed experience. I needed to pass through all that. I think when I got the experience, all of those things, it went well. I think I'm quite competitive. I think I needed a little bit to adjust myself, to be here and play these kind of matches, to learn."
Aryna Sabalenka gets better of Iga Swiatek to keep her WTA Finals hope alive.
Going through a rough phase, Aryna Sabalenka needed something to get things going. And it was this match that looks like will flip the switch on.
Getting a top seed in this Akron WTA Finals 2021, Aryna Sabalenka inspired a comeback to beat Iga Swiatek in a three-set thriller contest. The hope to qualify for the semifinals is alive for the World No. 2 after this win.
Both of them came to this match after disappointing first matches. Swiatek lost her third match of the season to No.4 Maria Sakkari, 6-2, 6-4, while Sabalenka dropped 10 consecutive games to lose 6-2, 6-0 against No.7 seed Paula Badosa.
"After the first match I just didn't want to do the same mistake. I just didn't want to give up again," Sabalenka said. "I just kept saying to myself, You have to put this ball in somehow. If you don't feel well, doesn't matter, you just have to fight and you just have to try your best."
The opening set started with both players holding serves at 3-2 with Aryna serving to level the set. It was at that point that Belarusian was broken at love. Two unforced errors and a double fault earned the Polish triple breakpoints. Another double fault gifted the game to Iga.
Swiatek was consistent with her play to win the last four games of the set. The serving was a major difference as Swiatek served at 79% while Sabalenka served at just 42% of her second-serve return points in the first set, which took only 34 minutes.
The second set started in a similar fashion with Sabalenka serving to get level after 1-2. The intent changed for the Belarusian after leveling the game at 2-2. She started to engage with the crowd, from which she gained a lot of energy too.
"Of course, with the crowd, I felt amazing," Sabalenka said. "I just enjoy every second on the court. I mean, I have never felt this support before. I even felt goosebumps."
The power was coming to play for World No. 2 as her winners were nearly unstoppable. Sabalenka broke Swiatek twice to build a run of her own. Serving to close out the set, Sabalenka faced down three breakpoints, acing Swiatek on two of the three to seal the set, to take the match to a decider.
In the decider set, Aryna Sabalenka broke Swiatek early to build a 2-1 lead. However, the lead didn't last long when Swiatek broke back immediately to level the set at 2-2. Riding the momentum she gained from the crowd, Sabalenka's play improved a lot from the first set.
They kept their service for the next six games. At 5-all, Sabalenka led the next game 0-30 eventually breaking Swiatek from a misfired forehands at duece. The Belarusian was serving for the match and successfully held the service to end two hours and 17 minutes of comeback.