India: T20 world cup is just a month away, every team is trying to balance out their squad to take the trophy home. India has announced their squad for the same. Virat Kohli has been named the captain as expected. BCCI surprises with the inclusion of MS Dhoni as a mentor for the tour.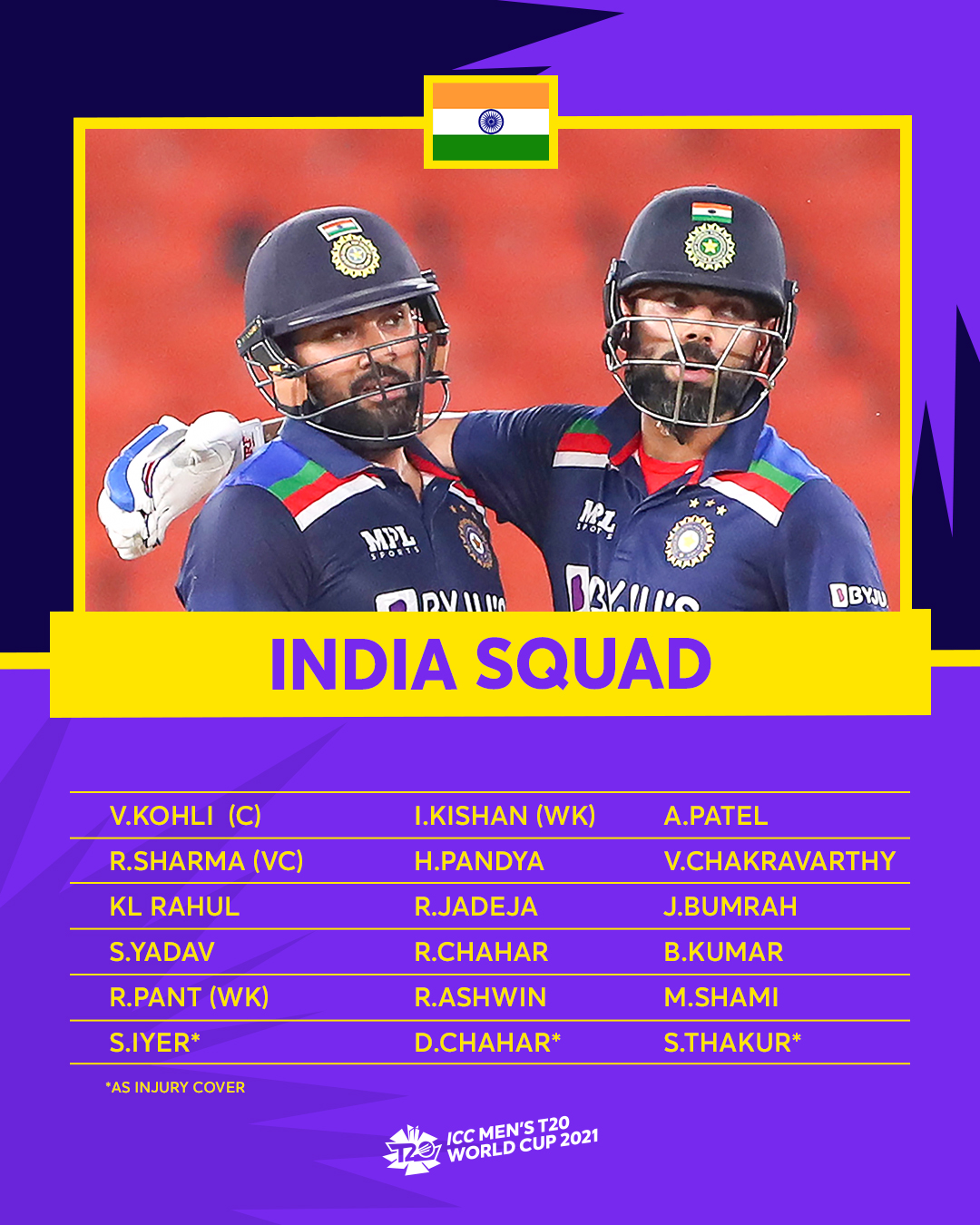 Let's first look at the squad:
Batsmen: Virat Kohli (c), Rohit Sharma (vc), KL Rahul, Suryakumar Yadav.
Wicket-keepers: Rishabh Pant, Ishan Kishan.
All-rounders: Hardik Pandya, Ravindra Jadeja, Ravichandran Ashwin.
Spinners: Axar Patel, Varun Chakravarthy, Rahul Chahar.
Pace Bowlers: Jasprit Bumrah, Mohammed Shami, Bhuvneshwar Kumar.
Batsmen are as expected in small number.
With T20 being a dynamic game, teams nowadays look for players with diverse skills. More and more all-rounders are getting chances and are proving better for the teams. That is the reason India has limited the only batter list.
Ravichandran Ashwin, Bhuvneshwar Kumar, Hardik Pandya makes a comeback after some time. With Ashwin bringing a surprise for everyone. Although he is a good asset as I have been saying.
India have variety as well as depth.
Hardik Pandya is a medium pacer all-rounder, who has proven himself a match-winner from time to time. His role will be very crucial in this T20 World Cup edition.
Ravindra Jadeja has improved his batting a lot and that is giving him chances in every format. His contribution with the bat is reveling for India.
Ravichandran Ashwin is still tough to play against for any batter. He has sharpened his bowling with lots of variations. Including him in the squad will give India a backup for batting if needed for a cameo.
Batting looks powerful.
All the picks are proven performers in the domestics as well as IPL. Ishan Kishan and Suryakumar Yadav were superb vs England at Ahmedabad.
They will be supported by the priceless experience of Rohit Sharma and Virat Kohli. On a good day, both the batter can single-handedly change the course of the game.
KL Rahul's selection becomes a no-brainer. His Contribution to Punjab Kings and the Indian team is always crucial. What's important is that he converts small start to big scores which benefit every team he plays for. Rishabh Pant as you know the number 1 choice in wicket keeping for the T20s.
Bowling unit speaks for itself.
Bumrah and Shami as you know from the journey with the Indian team have grown with incredible speed. Buvneshwar Kumar is included which gives death bowling a boost, as well as a new-ball swing, which can be used effectively.
Spinner Trio Axar, Rahul, and Varun are going to UAE with the team. Varun and Rahul are more likely to play than Axar, because of their variations and mysterious bowling actions.
Overall, Team looks balanced and full of depth.
Will Mahi deliver another ICC trophy to India?
MS Dhoni will be mentoring the team in the UAE tour. With 3 ICC trophy-winning experiences, Dhoni will be guiding Virat & company to win yet another T20 world cup trophy.
Will Mahi deliver?
Shikhar Dhawan, Yuvendra Chahal, Kuldeep Yadav, Krunal Pandya has been left out by the selection committee. Huge changed from the panel, as it was not at all expected. What do you think?