ENG vs IND 4th Test: Lord Shardul Thakur rules with back-to-back '50s. Rahane, Kohli fails again. Tail helps India to set a target of 368 runs. England quite comfortable to start day 5 with 77-0.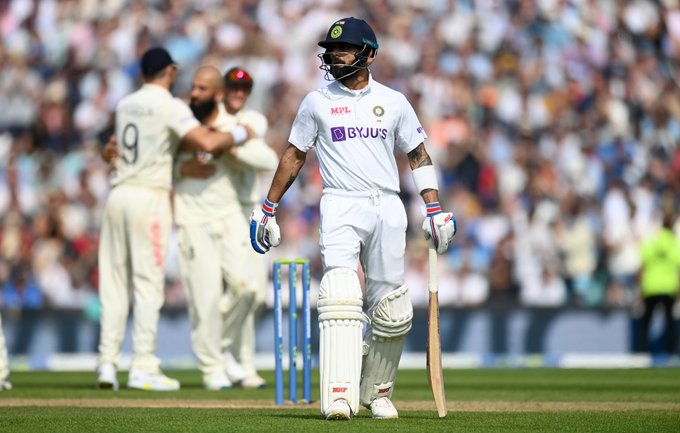 Rahane, Kohli fails again.
Virat Kohli and Ravindra Jadeja were batting overnight to start day 4. It did not take long for the batter to get set. The first half an hour was very good with no wickets falling. Until Chris Woakes took the attack.
Chris Woakes was brought and he disrupted the partnership. He strikes in his very first over of the day.! A length ball, on off, lands and straightens up off the deck. Jadeja (17 runs from 59 balls, 3(4)) strides forward to defend but gets hit on the pads. England appeal and up goes the finger. Jadeja takes the review but the ball tracker shows 3 reds. India 296-4.
Ajinkya Rahane (0 from 8 balls) was also LBWed by Chris Woakes. No need to review this time for Rahane as it looked plumb with the naked eye. A full ball, swinging in from around off. Ajinkya Rahane looks to flick on the leg side but misses and gets hit on the pads. India 296-5.
Virat Kohli (44 runs from 96 balls, 7(4)) was well set to end his century drought. But he was caught in the slips. It was a huge moment for England and their fans. Moeen Ali tosses the ball outside off, it lands and holds its line. Kohli takes a big stride to defend but gets a thick outside edge to first slip. India 312-6.
Lord Shardul and Pant sets the tone.
It was this partnership of 100 runs that stretched the game thus far. Pant was seen in a different approach, defending a majority of the balls. While on the other end, Shardul was punishing the bowler for every bad delivery.
They both scored 50, with Shardul being the aggressor. Nothing was going in England's favour when Joe Root stepped up and took Shardul Thakur's (60 runs from 72 balls, 7(4) 1(6)) wicket. It was a carbon copy of Virat Kohli's dismissal.
Just after that, Rishabh Pant (50 runs from 106 balls, 4(4)) was out advancing down the pitch and looking to lift the ball over the top but mistimes it back to the bowler. Fine knock from the Pant. Very calm innings till now. India 414-8.
It seemed like it is it for team India, but Umesh Yadav (25 runs from 23 balls, 1(4) 2(6)) and Jasprit Bumrah (24 runs from 38 balls, 4(4)) made a valuable contribution to the total. India was all out for 466 leading by 367 runs.
Chris Woakes was the star again picking up 3 wickets. Moeen Ali and Ollie Robinson taking up 2 wickets each. Every England bowler took at least 1 wicket.
Bowling Figures: James Anderson: [33-10-79-1], Ollie Robinson: [32-7-105-2], Chris Woakes: [32-8-58-3], Craig Overton: [18.2-3-58-1], Moeen Ali: [26-0-118-2], Joe Root: [7-1-16-1].
Hameed and Burns gives England winning thoughts.
England openers started the proceedings very confident and making full use of the oldness of the pitch. Haseeb Hameed was not hesitating from playing the shots. Hameed (43*) and Burns (31*).
Indian bowlers tried everything but were unable to take wickets. Ravindra Jadeja would be the key for India to have a winning chance or at least a drawing chance. England needs 291 on the last day.
It is seen that pace bowlers don't have much help from the surface itself. But they can surely replicate what Woakes or Robinson did. Let's see if India can win or draw the match or …
Watch ENG vs IND 4th Test, day 4 highlights, HERE.